Polo America Racing / Polo America explores the world of racing.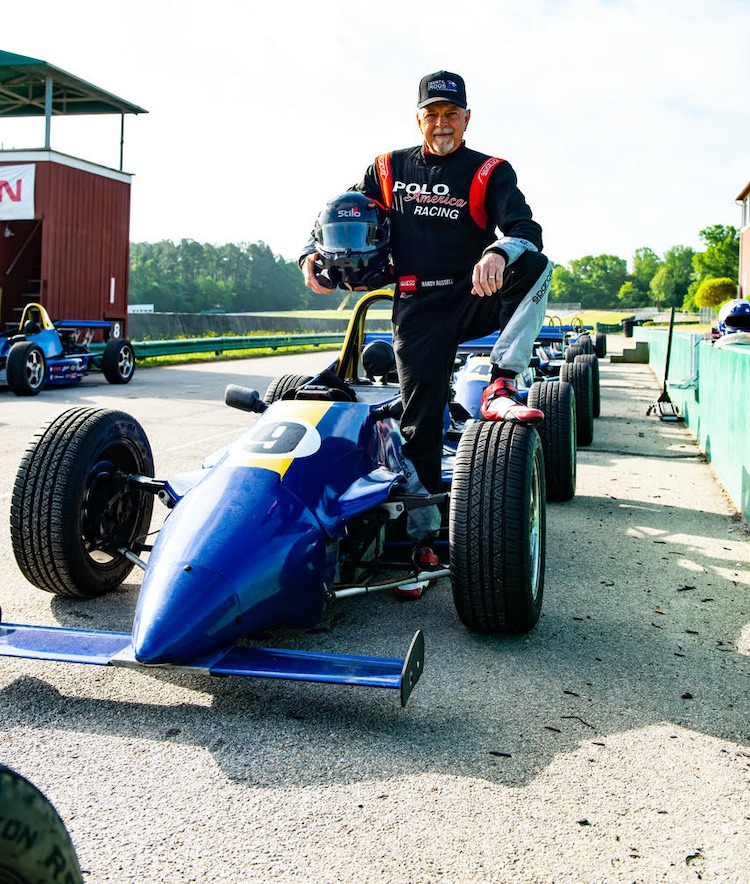 Randy Russell at the Bertil Roos Racing School at Virginia International Raceway in Alton, VA
POLO AMERICA RACING
For 32 years, luxury super cars have been synonymous with Polo America events. Almost every major luxury brand of automobile has partnered with Polo America at one time or another and been featured at various polo events across the country. Our client list includes: Lamborghini, BMW, Aston Martin, Mercedes-Benz, Rolls-Royce, Bentley, Alfa Romeo, Jaguar, Porsche and many more. Adding auto racing to Polo America's portfolio is a natural.  Polo players love luxury, speed and excitement, most polo players love their cars as much as they do their horses.  To make the crossover, Polo America made changes to the magazine that we have been publishing for 30 years and utilized a new Jack and Jill format.
Half of the magazine features polo and the other half features racing. The interest was immediate! Advertisers and sponsors signed on to reach our expanded market. Polo has always guaranteed a high-end demographic. With racing and car enthusiasts, who have the same large amount of disposable income as polo players, we've drastically increased our high-net-worth readership.
Polo America Racing will take you to some of the most iconic racetracks and racing schools in the country. In our first six issues we've featured the following High Performance Driving Experiences with Polo America founder and President Randy Russell. Randy currently holds a NASA and SCCA full competition race license.
Audi R8 at Circuit of the Americas
Bertil Roos Racing School at Palm Beach International Raceway, Virginia International Raceway and Pocono Raceway
BMW Performance Center at The Thermal Club
Allen Berg Racing School at Laguna Seca
Ron Fellows Performance Driving School at Spring Mountain Motor and Country Club
Lucas Oil Racing School at Homestead Miami Speedway
Exotics Racing at Las Vegas Motor Speedway
Speed Vegas
Skip Barber Racing School
Radford Racing School
Our extended reach will not be limited to just racing. We will also explore reviews on the latest: super cars, insurance, automobile country clubs, race car garages, custom racing helmets, and luxury racing watches; anything that is of interest to our reader. We invite you to join us. To see the latest issue of Polo America Racing please go to our Magazine page and please click on the magazine covers.
To advertise in Polo America Racing, or become a sponsor at one of our races, please call or email us at:
(760) 668-6093