SEPTEMBER 28, 2019
HIGHEST RATED ARENA POLO GAME ON THE WEST COAST
A WEEKEND OF POLO, YACHTS, FASHION, MUSIC, FOOD & DRINKS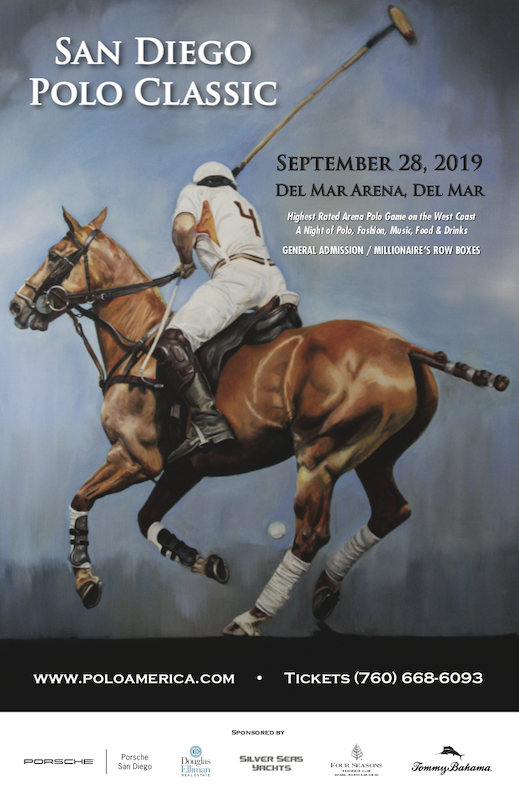 Polo America invites you to join us at the Del Mar Arena on Sept. 28 for the San Diego Polo Classic. With Hotel del Coronado in the midst of a $200 million remodel, we have moved for the next two years to Del Mar. Just as beach polo was the social event of Coronado, the San Diego Polo Classic is set to be the social event of Del Mar. We have an exciting event planned, with 2 polo games, an open-bar cocktail party, informal modeling, a fascinator hat contest, half-time show, a post-game party with players, and much more.
The Tommy Bahama Team includes the Hawaiian Hurricane, Herman Louis DeCoite, who is returns to the shores of California. Herman is best known as a member of the legendary Los Angeles Colts from the pro days at the Los Angeles Equestrian Center. He is joined by two island superstars, Devon Dailey and Kawika Manoa. All three regularly play high-goal polo in Hawaii. They are sure to bring the roof down this year during exiting play against the powerhouse team, Porsche San Diego. The Porsche team includes five-goal player Alejandro Nordheimer,  Santiago "Topo" Mendez, at four goals, and James a'Court, at three goals.
There are 3 ticket options, from $25 for general admission, to Millionaire's Row boxes at $400 and $800. Millionaire's Row boxes seat 4 or 8 people (a front-row box of 4, or second-row box of 4). Each box includes a table dressed with linen and flowers. Millionaire's Row box holders have the option to purchase a three-course meal with wine.
We have created an incredible package for Millionaire's Row box holders. To start, your guests and you will attend a Meet and Greet cocktail party on Sept. 28, at Silver Seas Yachts (between 4 p.m. and 7 p.m.). On the agenda is mingling with polo players aboard several incredible yachts. On Saturday, Sept. 28, the San Diego Polo Classic begins with an Open Bar cocktail party from 6 to 7 p.m. Tommy Bahama will model informally throughout the party, which also includes an elegant fashion contest for women. A Fascinator Hat Contest for the most elegant and the most humorous entry also is planned. Afterward, you will find your seats on Millionaire's Row within feet of the arena. Each box is elegantly appointed.
Our official hotel, Four Seasons Aviara, has provided a special rate. To reserve a room, click: https://www.fourseasons.com/northsandiego/.  Use group code: POLOAM.
---
Purchase tickets »
Teams
Porsche San Diego: Alejandro Nordheimer: 5 goals | Santiago "Topo" Mendez: 4 goals | James a 'Court: 3 goals
Tommy Bahama: Herman Loius DeCoite: 4 goals | Devon Dailey: 4 goals | Kawika Manoa: 4 goals
Silver Seas Yachts: German Coppel: 2 goals | Nour-Dean Anakar: 2 goals | Ashton Wolf: 4 goals
Douglas Elliman: To be announced
Agenda
6 PM — Gates open | cocktail party for Millionaire's Row guests | vendors
6:30 PM — Polo game
7:30 PM — Trophy presentation | hat contest winners | dinner in Millionaire's Row boxes
7:45 PM — Half-time show
8 PM — Polo game
9 PM— Trophy presentation
9:15 PM — Post-game party with players
10 PM — Gates close
Sponsors
---
Purchase tickets »